Here at Lizzielane we're so excited to introduce our brand new Joma Jewellery Spring Summer Collection..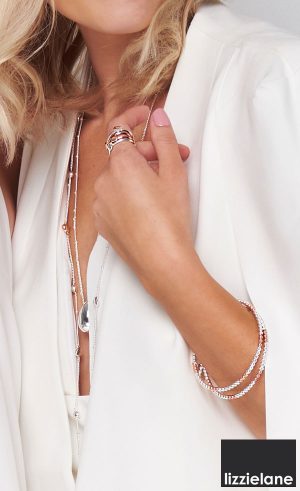 This season the team at Joma have taken the brand in an entirely new direction, and they are excited to introduce some amazing new additions to what was an already stunning range – all of which are designed to create the ultimate gift or a special treat, just for you
This season we see the introduction of a brand new carded bridal collection "Happy Ever After" which is filled with pieces to create your very own happy every after. We also love the the simple yet elegant Pretty Pebbles collection which are availble in glistening rose gold and silver – Perfect for everyday summer charm!
The best selling Joma Jewellery a littles are back with some gorgeous new additions and as always make the perfect gift with their lovely sentiment message cards and beautfully designed jewellery.
The layered look is proving to be more popular than ever and the new adjustable necklaces from Joma Jewellery introduce a gorgeous boho charm to create an effortless layered layed-back look. Stack high with Joma Jewellery's new boho bangles to be the ultimate silver siren.
Joma Jewellery Spring Summer 18 Highlights
This season's collection from Joma Jewellery is filled with sentiments, bursts of summer colour and the ultimate new gifting ranges to ensure you have every occasion covered!
As always, stack high and mix and match your Joma Jewellery to create your very own look!
Pretty Pebbles
This seasons must have collection of "Pretty Pebbles" creates the ultimate effortless layered look. We adore the rose gold and silver pebbles mixed and matched for perfect every day chic.
The new Pretty Pebble collection is simply perfect for creating a styled, layered look. It's effortlessly chic and sophisticated so we think it's sure to be your one of your favourites this season.
Secret Message
Shine your way through summer with the beautiful new Secret Message necklaces from Joma Jewellery.
Smooth shining pendants fall from a pretty dash chain with a secret handwritten message inside – The perfect gift to give someone special and for yourself.
This stunning collection is the perfect way to wear sentiment every day. Each piece has a beautiful handwritten sentiment hidden. The perfect way to wear inspiring mantras every day.
These beautiful secret message necklaces and bangles are the perfect gift to give someone special. Simply stunning and they took great stacked this season.
Luxe Bangles
Prepare to love the brand new Luxe bangles from Joma Jewellery!
A radiant rose gold oval bangle finished with a stamped sentiment and small, colourful, fun tassels make these the perfect bangles to stack this summer -Stack high for a real summer statement!
Fiji
Introducing the new Fiji drop necklaces for summer. Available in silver or rose gold, this shining detailed disc necklace is the ultimate summer accessory. Perfect to wear on holiday!
Caci Charms
Introducing the new Caci Charms collection. Featuring sparkling, faceted beads finished with beautiful falling sentiment charms make this collection one of Joma's prettiest new additions for summer. They're sure to have you shining bright this season.
Live Love Sparkle
The beautiful new carded range from Joma Jewellery is sure to have you shining this season!
This stunning rose gold heart charm falling from a sparkling silver facetted chain necklace and smooth stretchy ball bracelet is sure to help you live, love and sparkle every day.
Shine Bright
We simply adore these and we're sure you will too!
The shining silver heart charm falling from a pretty bobble chain necklace and smooth stretchy ball bracelet is sure to make you want to Shine Bright every day!
Sparkle and Shine
This gorgeous golden heart charm fallmg from a silver dash chain necklace and smooth stretchy ball bracelet is sure to help you Sparkle and Shine. We know you'll love these as much as we do.
Happy Ever After
The team at Joma Jewellery are so excited to introduce their new Happy Ever After collection this season.
These pretty and classic necklace and earrings sets are the perfect pieces to add to any special occasion. It's the perfect way to wear a little love on your special day.
The beautiful necklace within each set is finished with delicate heart shaped chain – designed to make every detail perfect for your special day.
Summer Stories
It might just be around the corner,  but before we know it summer will be here and what better way to celebrate than with the brand new Summer Story collection from Joma Jewellery!
Choose a sweet statement to live your summer by, with shining charms and facetted cut colour crystals these necklaces are finished with our popular dash chain.
The Summer Stories necklaces collection feature tiny trios of meaningful charms create these sweet summer story necklaces, finished with tiny crystals and sweet meanings.
The bracelet collection also feature sweet summer charms filled with meaning that create these sweet stretchy bracelets, which are perfect for stacking high. Choose a sweet statement to live your summer by…
Summer Sparkle
Featuring two pairs of delicate stud earrings or three stacking ring on a beautiful card, the Summer Sparkle collection is a brand new addition for this season.
Choose your own perfect collection of stud duos or stacking ring sets to mix and match.
Joma Jewellery a little
Joma are forever addlng more amazlng additions to their ever popular 'a little' collection! This season you will find thier most fun & summer inspired pieces! They are the perfect way to celebrate summer in style…
Shop all Joma Jewellery a little…
A Little Wedding Collection
This season sees some more additions to the amazing "a little" Wedding collection, with each one featuring a sweet sentiment for your special day…
Children's Jewellery
The Spring Summer 18 collection introduces some brand new pieces in Joma Jewellery Girls children's collection. They believe all girls are made of magic and sparkle!
Shop Joma Jewellery Girls
Free UK Delivery and Gift Packaging when you Shop Joma Jewellery at Lizzielane.com
It would be remiss of me if I didn't mention the fact that when you shop for Joma Jewellery at Lizzielane.com, as well as being able to take advantage of Free UK delivery on all of your purchases, it's good to know that every piece Of Joma Jewellery arrives to you beautifully packaged in official Joma Jewellery gift packaging.
You can see our complete collection of Joma Jewellery, including all of the new SS18 additions here…
Read more about Joma Jewellery: