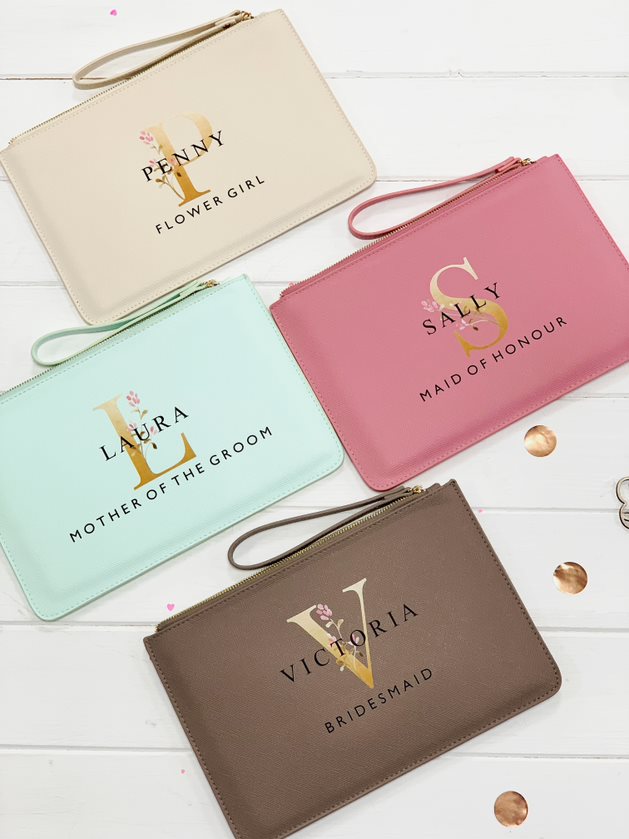 Welcome to our enchanting collection of Personalised Bridesmaid Clutch Bag at Lizzielane.com – the perfect way to add a touch of elegance and personality to your bridal party.
Our bridesmaid clutch bags are a delightful blend of style, sophistication, and sentiment. Crafted with love, these bags are designed to be the ideal accessory for your special day.
Personalised Bridesmaid Clutch Bag
Your bridesmaids deserve the very best, and our Personalised Bridesmaid Clutch Bags deliver. Choose from a beautiful array of 16 colours and personalise each clutch with the name or initials of your bridesmaids. This is more than a bag; it's a symbol of your friendship, capturing the essence of your special day.
Shop Personalised Bridesmaid Clutch Bags
Bridesmaid Bag
Elevate your bridesmaid's ensemble with our exquisite Bridesmaid Bags, each one a harmonious fusion of fashion and functionality. These chic, personalised clutch bags are available in a stunning spectrum of 16 enchanting colours, making it effortless to match your wedding's colour palette.
With a soft-touch lining and a gold zip to add a touch of luxury (apart from the black/black clutch bag which has a black zipper) our Bridesmaid Bags are designed to be both practical and stylish.
Bridesmaid Clutch Bag
Our Personalised Bridesmaid Clutch Bag are the epitome of elegance. These stylish and compact clutch bags are not just a fashionable accessory; they're a heartfelt gift for your bridesmaids. Choose from a wide array of colours, ensuring that your bridal party's individual tastes and your wedding's theme are perfectly aligned. The gold zip, elegant design, and soft touch lining make these clutch bags a sophisticated choice for your bridesmaids.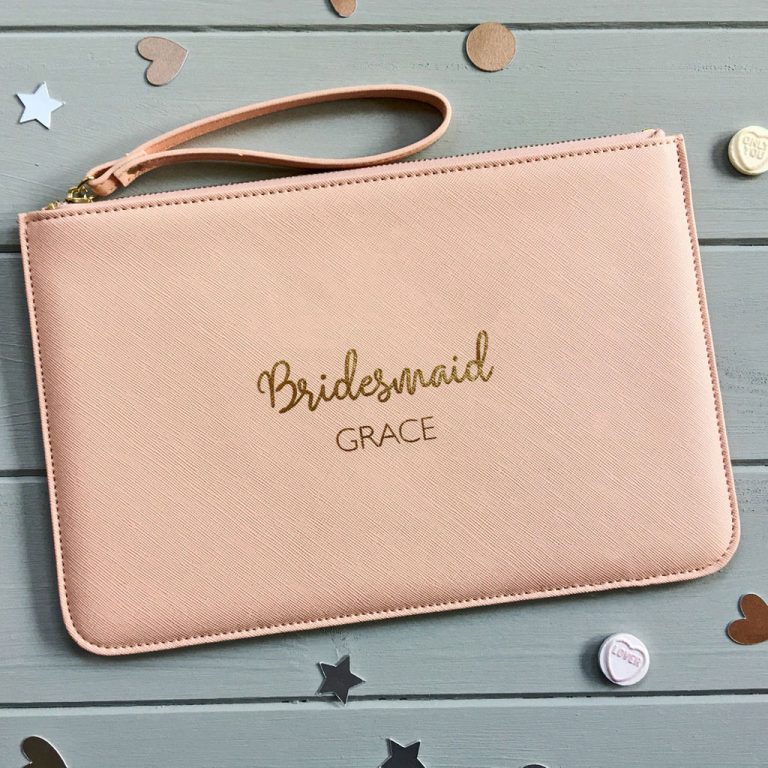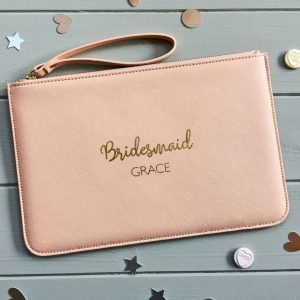 Personalized Bridesmaid Pouch
When it comes to personalisation, we've got you covered. Our Personalized Bridesmaid Pouch is a canvas for your creativity. Customize each pouch with your bridesmaids' names, initials, or a special message. It's a meaningful keepsake they'll treasure long after your wedding day.
Personalised Bridesmaid Bag
The bond between a bride and her bridesmaids is one of a kind. Celebrate this unique connection with our Personalized Bridesmaid Bags. These stylish, practical, and personalized clutch bags are more than just an accessory. They're a symbol of your gratitude, love, and cherished moments together.
At Lizzielane.com, we understand the importance of personal touch and attention to detail. Our Personalised Wedding Party Clutch Bags are thoughtfully designed to enhance your wedding's beauty and the heartfelt connection you share with your bridesmaids. These bags not only complete their look but also express your gratitude in the most stylish way.
Choose our Custom Bridesmaid Clutch Bags to add a personal touch and a touch of luxury to your bridal party. These beautiful bags, with their soft lining and golden zippers, are more than just accessories; they're tokens of appreciation that will be cherished for a lifetime.
Navy Clutch Personalised Bridesmaid Clutch Bag: The Elegance of Deep Blue
For brides who seek timeless elegance and a touch of sophistication, navy clutch bags are an impeccable choice. The deep, rich hue of navy complements a wide range of bridal ensembles, making it a versatile addition to your wedding day attire. A personalised navy clutch bag adds a sense of regal charm to your look, exuding confidence and grace. The versatility of navy allows it to effortlessly blend with various wedding themes, from classic and nautical to rustic and formal. Whether you're saying your vows by the sea or in an opulent ballroom, a navy clutch bag will make a stunning statement as you walk down the aisle.
Light Blue Personalised Bridesmaid Clutch Bag: Embracing the Serenity of Sky Blue
If your wedding theme embodies the tranquillity and serenity of the skies, light blue clutch bags are the perfect choice. The soft, dreamy shade of light blue captures the essence of a tranquil wedding atmosphere, creating a harmonious connection between you, your gown, and the surroundings. A personalized light blue clutch bag adds a pop of colour that enhances your overall look while contributing to the soothing ambiance of your day. Whether you're celebrating amidst a garden filled with pastel blooms or exchanging vows in an intimate beach front ceremony, a light blue clutch bag will reflect the serenity and romance of your chosen theme.