We're so excited to introduce our brand new Katie Loxton Autumn/Winter '18 collection. This season their creations are filled with a little luxury and extra special sparkle, designed to see you through the festive season in style.
As always, everyone's favourite Perfect Pouches are back with some brand new additions – this season Katei Loxton have introduced some that are more shimmery than ever before, designed to make sure you dazzle for every occasion!
From small sweet accessories to statement bags, this season's collection is filled with serious style. 
As well as the new adult bobble hats, the brand new baby bobble hats are the cutest addition for mummy and baby – they're the ultimate in matching chic! 
Katie Loxton's new season festive candles are truly enchanting, presented in a luxurious Christmas tree box and finished with glistening golden patterns.
"I love mixing and matching from small accessories to statement pieces and I truly believe gifts should be filled with luxury and style – Katie Loxton
Katie Loxton Pouches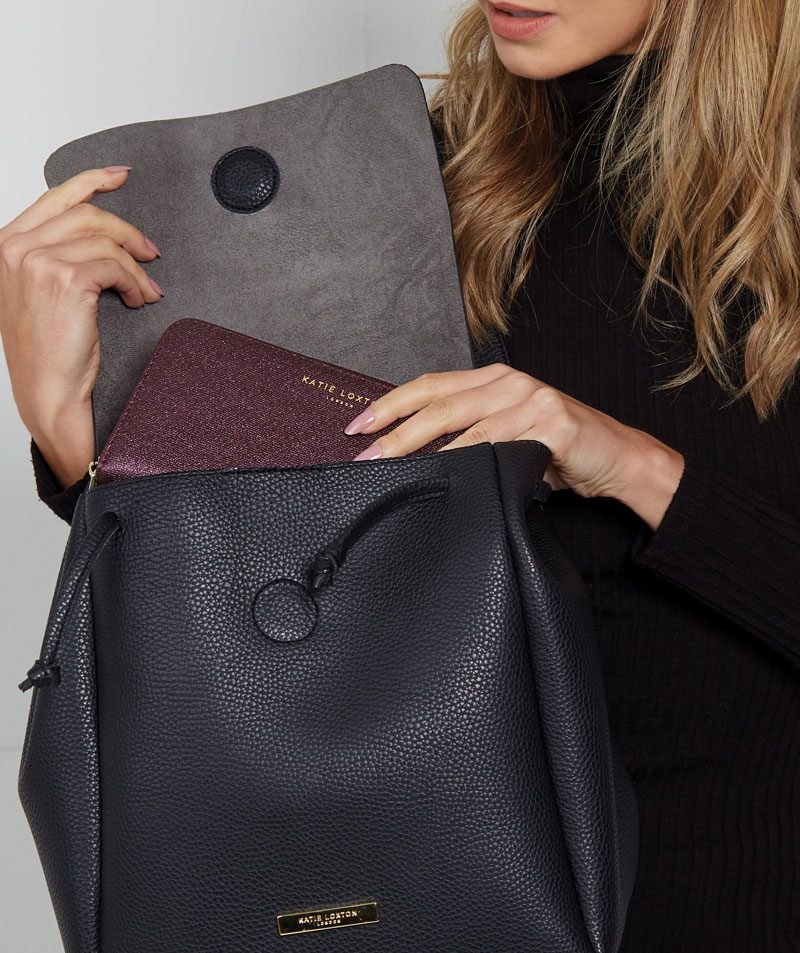 We are so excited by the new collection of gorgeous Katie Loxton bags, purses and Pouches this season. From shimmery additions to their Perfect Pouch range to they must-have new handheld bag, the Suki bucket bag, we think they really do have something for every occasion to keep you stylish this season! 
Brand New Katie Loxton Shimmer Perfect Pouches
Be sure to shimmer thorough winter with these amazing new glistening Perfect Pouches. Finished in glistening gold, silver, deep Burgundy, navy and dreamy greys, they each have a perfect sentiment to choose from. 
Shop Katie Loxton Perfect Pouches…
Brand New Maid of Honour Perfect Pouch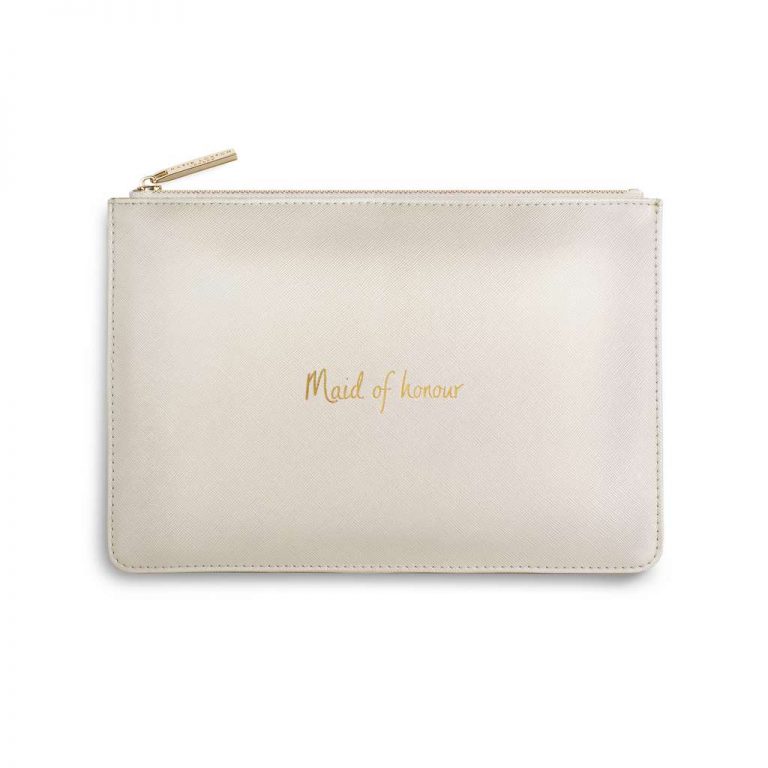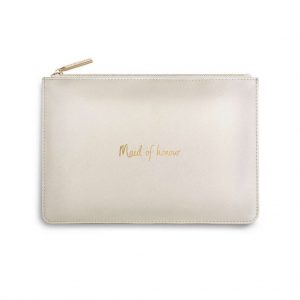 The brand new addition of the Katie Loxton Maid of Honour Perfect Pouch to the already popular Katie Loxton Bridal and Wedding pouches means there now one for everyone, form the Mother of the Bride to the Flower Girl
French Perfect Pouches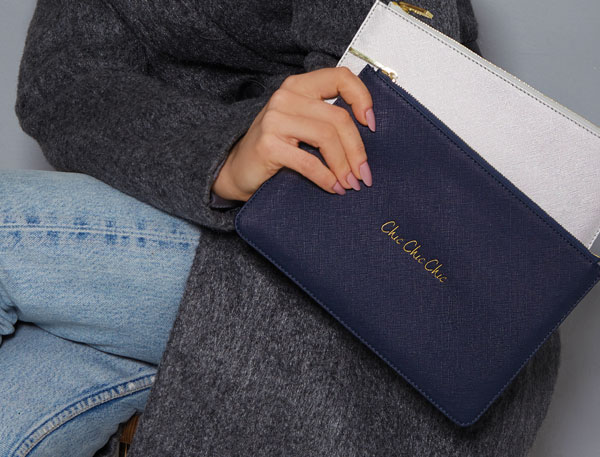 Taking their style tips from the always-so fashionable French, the team at Katie Loxton have created their classic, ever-so chic French collection! We just love them all!, Oui, oui, oui!
Shop Katie Loxton French Perfect Pouches
Secret Message Pouches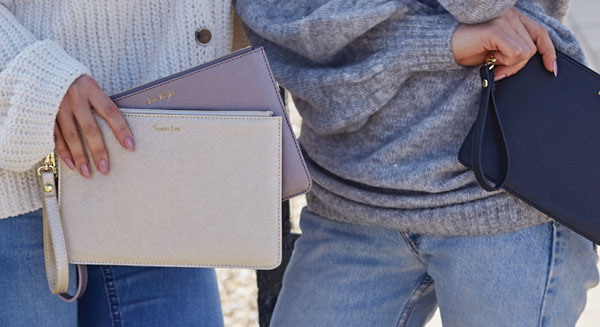 The stylish Secret Message pouches from Katie Loxton are back for winter with brand new additions! Each of these iconic pouches holds a unique secret message inside and is now available in metallic gold, silver and charcoal as well as new classic black, navy and mulberry. Finished with a detachable wrist strap that makes these clutches easy to wear and the perfect way to brighten every day.
Marcie Slim Pouches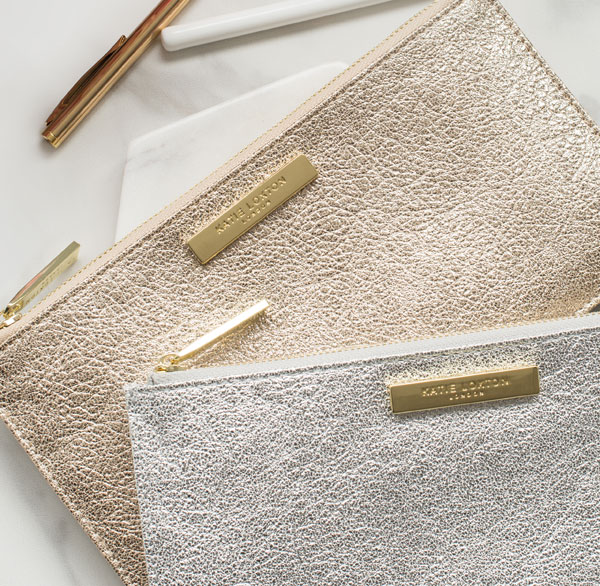 These beautiful slim pouches are the ultimate versatile pouch, perfect for stationery, make-up, day to day organising and little trinkets. Finished in must-have metallic gold or silver.
New Florrie Tassel Pouches
The  best-selling Florrie Tassel pouch is back. Each soft pouch is finished with a golden sentiment and pretty tassel charms that complete the look of these must-have pouches. As well as the already popular pastel Florrie pouches, Katie Loxton have introduce a brand new collection in a range of wintery hues.
New Krush Klutch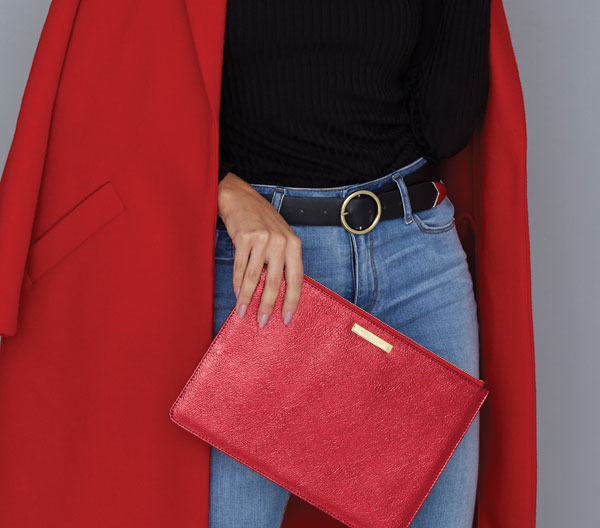 Brand new for this season, the statement Krush Klutch is one of our favourite must-haves! Choose from metallic pink, gold, red or silver.
Valentina Clutch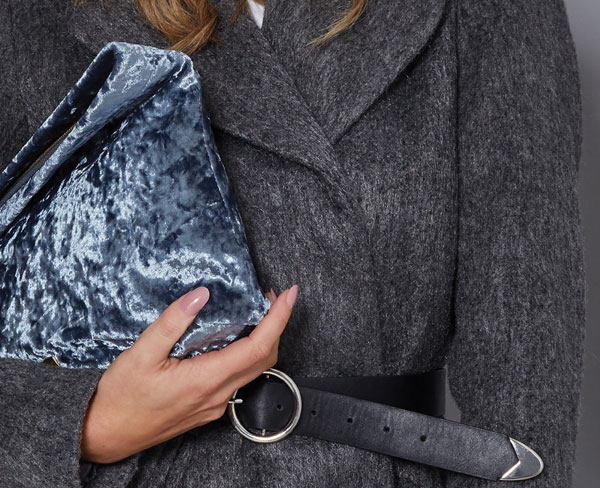 We love the brand new Valentina Clutches.  This glamorous over-sized clutch bag is perhaps the most exciting new addition within the AW18 collection. Each of these iconic clutches is finished in a crushed Valentina material with classic Katie Loxton zipper and can be folded for versatile wear.  Available in 4 superb colours; crushed blue, crushed sapphire, crushed berry and crushed taupe.
Katie Loxton Purses and Card Holders
Glittery Coin Purses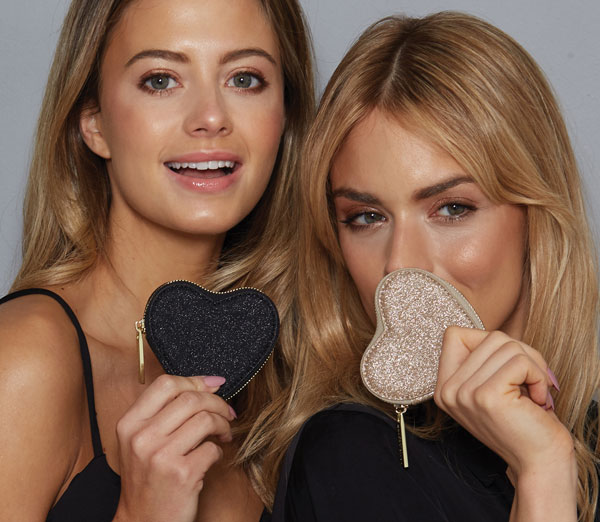 The ever-popular little heart coin purses are back in the ultimate sparkly finish, sure to see you shine and shimmer through the season! Available in sparkling black, ruby and champagne.  
Alexa Shimmer Purses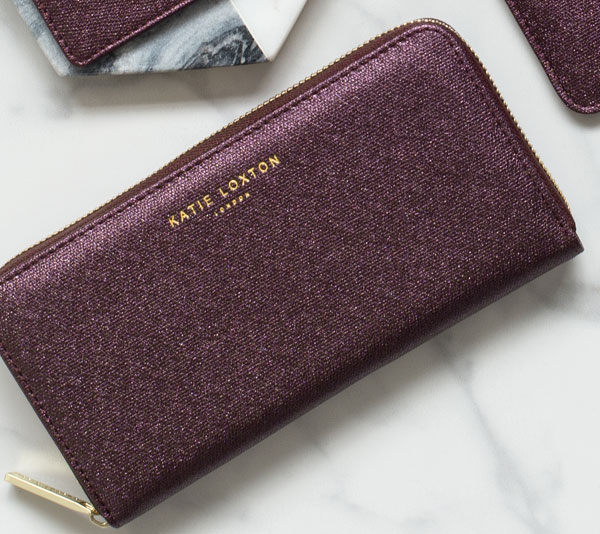 Alexa Shimmer Card Holders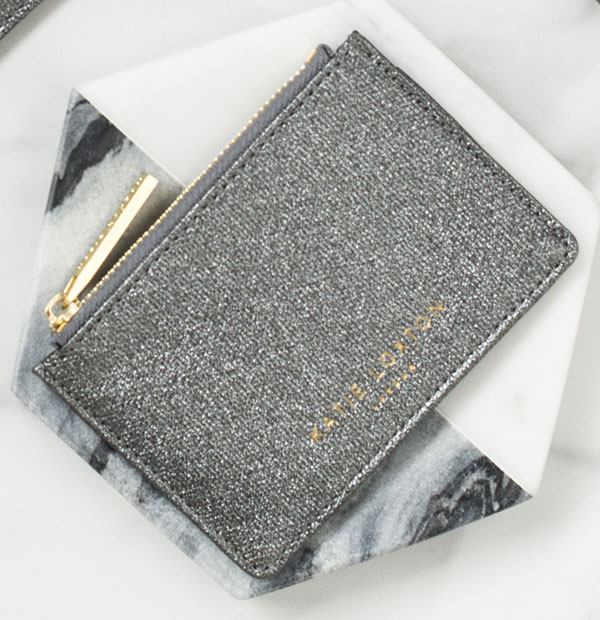 In addition to the new Alexa Shimmer Purses, Katie Loxton have also introduced these adorable, yet practical Alexa Shimmer Card Holders.  Available in 6 matching glistening colours, they make a perfect addition to your shimmer perfect pouch easing you from day to night!
Katie Loxton Tassel Purse
The best selling Tassel Purses are back and this time they've added a brand new black version to the already popular collection.
Katie Loxton Bags
Mini Chloe Bucket Bag
This mini version of the Chloe bucket bag is the ultimate day to night bag. Small, but perfectly formed, it fits your everyday essentials in style and is now available in metallic silver.
Luxury Lunch Bags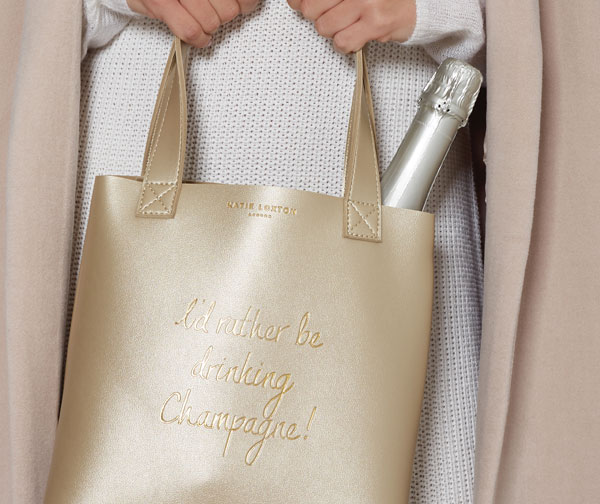 Lets do lunch in style. Brighten every lunchtime with the brand new Katie Loxton lunch bag, sure to make the office green with envy! Or if you'd rather be drinking champagne, why not take it for a picnic in the park. Available in metallic gold and silver, complete with poppers to secure your contents. Lunchtime never looked so chic! 
Metallic Gold "I'd Rather be Drinking Champagne" Lunch Bag
Metallic Silver "Let's do Lunch" Lunch Bag
Mia Make-Up Bags
These glam Mia make-up bags add a bit of style to your everyday and available in stunning metallic gold or silver, we love them both. Finished with a gold Katie Loxton logo bar and a luxurious silky lining, they're the perfect little deluxe accessory. 
Metallic Silver Mia Make Up Bag
Florrie Day Bag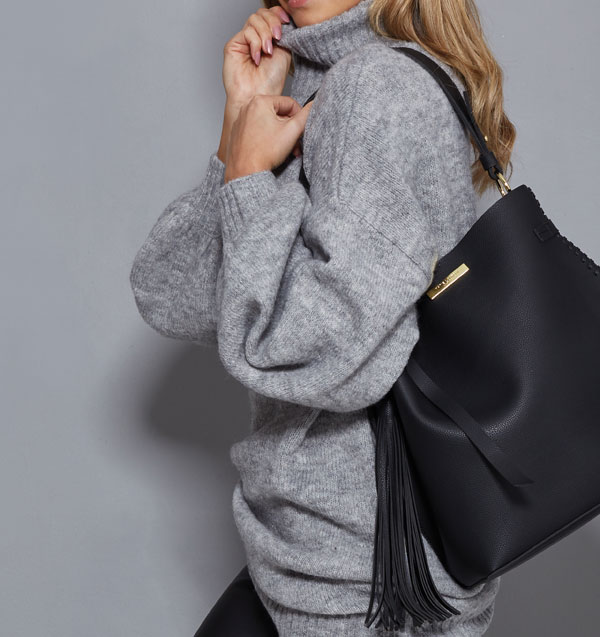 The popular Florrie bag is back in heavenly winter hues. Designed to be a chic everyday bag, the Florrie is now available in black and burgundy, as well as the already popular grey and pink and is finished with fabulous side stitching and statement tassel. 
Avery Bamboo Bag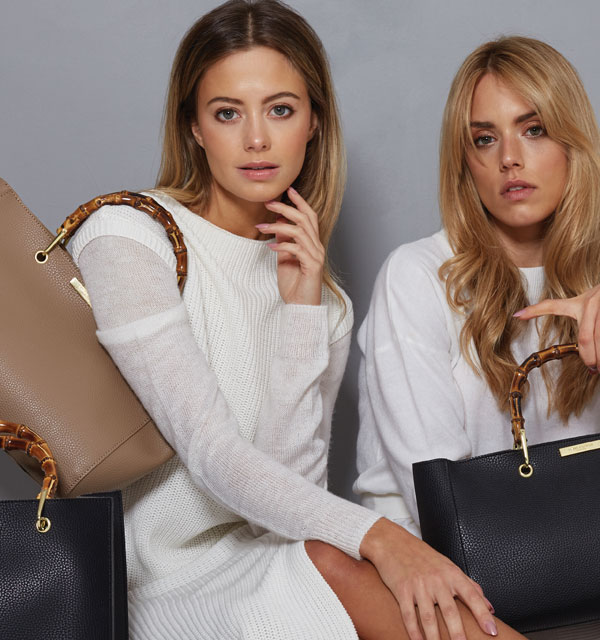 The best selling Avery bamboo bag is back! Lined with a soft suedette material this must-have piece is finished with golden hardware and beautiful natural bamboo handles. Finished in black, taupe and grey they are utterly chic! 
Amelie Bamboo Bag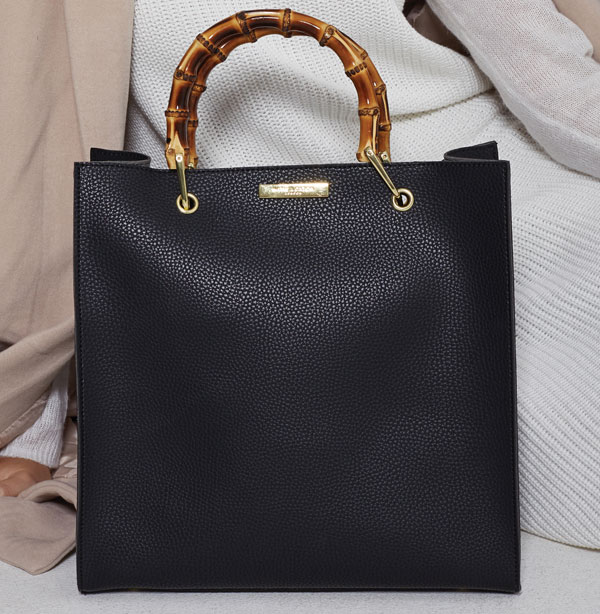 We love the new Amelie Bamboo Bag and know that your will too! Welcoming a new bamboo addition to the Katie Loxton hand bag collection with the Amelie Bamboo magazine bags. Available in a black or grey soft material and finished with golden hardware and beautiful natural bamboo handles, this is a classic style for effortless chic. 
Suki Bucket Bag
We love the brand new Katie Loxton Suki Bucket Bag!  New for winter, these handheld and over the shoulder bags are finished with golden loop handles to create the ultimate chic bag for winter. Choose from brilliant burgundy, classic black or pale grey. 
Myla Day Bag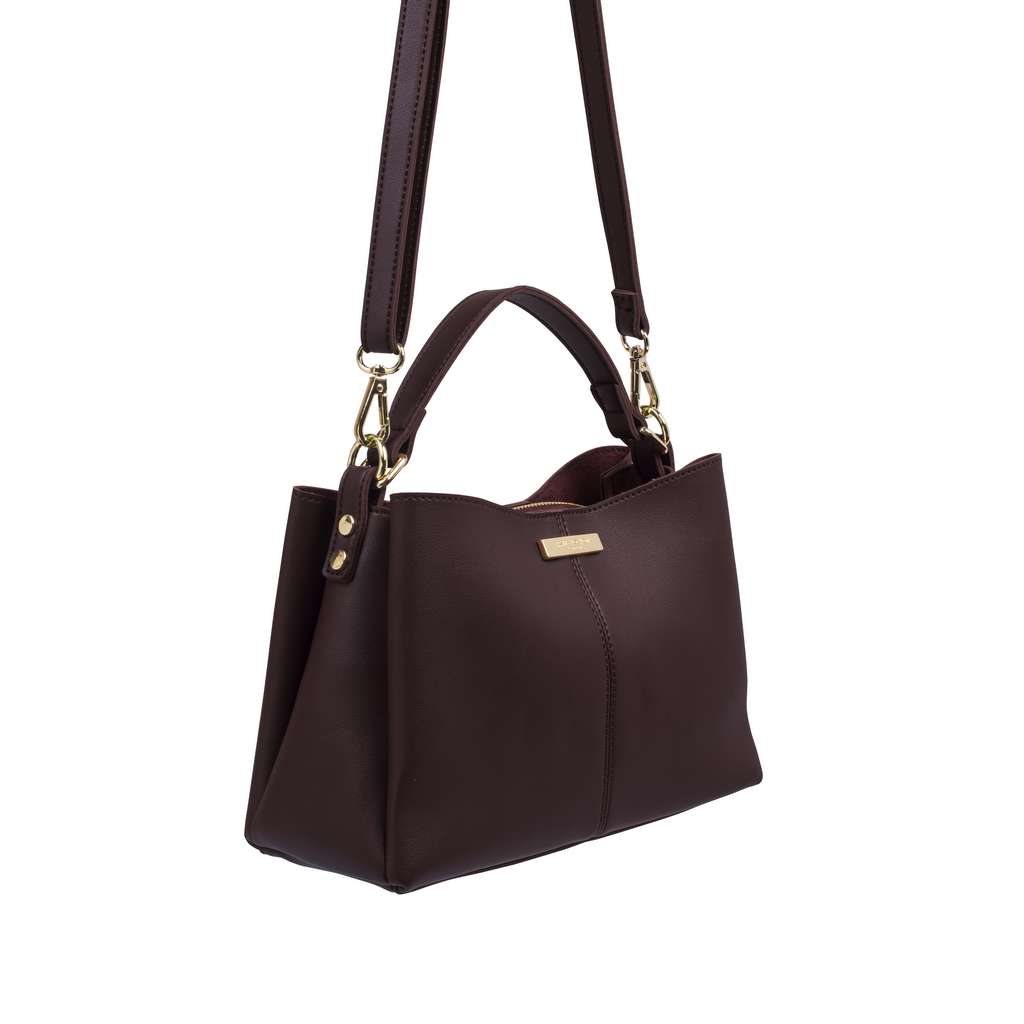 Designed to be a year-round staple, the Myla Day Bag from Katie Loxton is a totally stylish and could possibly be our new favourite crossbody bag. A versatile piece, featuring a short handle as well as an adjustable, removable over-the-shoulder strap. Choose from classic mulberry, metallic charcoal and black. 
Luna Loulou Bag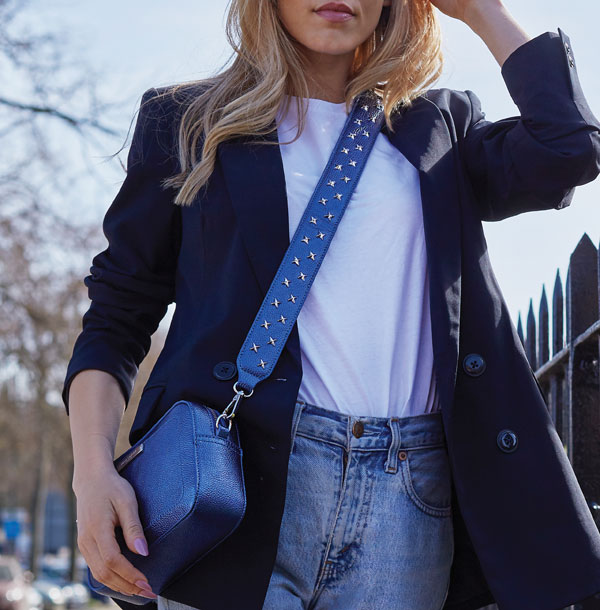 The original collection of Loulou bags were extremely popular, so much so, we could never get!  The new AW18 Katie Loxton Lune Loulou bag comes in two metallic colours with a starry feel.  Featuring a removable and detachable shoulder strap with statement metal stars for that extra sparkle this season.
Metallic Charcoal Luna Loulou Cross-body Bag
Metallic Cobalt Blue Luna Loulou Cross-body Bag
Half Moon Bag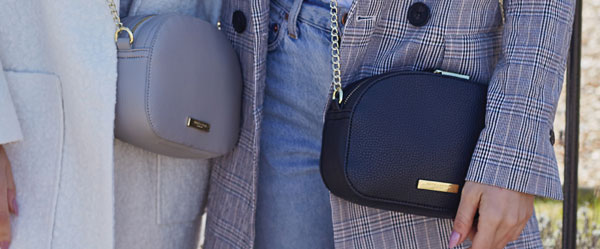 The perfect bag bag from day to night, we simply adore these new Half Moon bags. Finished with a gold logo bar and chain strap, it's the ultimate crossbody. Choose from a range of three new wintery hues – burgundy, black or grey.
Bea Backpacks
Showcasing the brand new Katie Loxton Bea back pack in a classic black, finished with a soft suedette lining it's perfect for any daytime outfit. And a complimentary introduction to the existing grey backpack.
Alix Tote Bag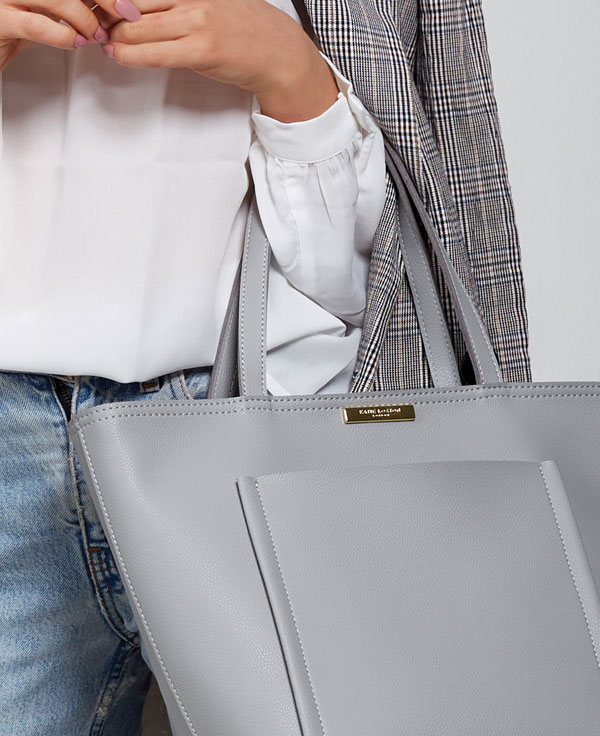 The new Alix Tote Bag from Katie Loxton is a welcome, useful addition to their collection and is available in classic black or new Dove Grey making this a go-to bag for every occasion.  
The Weekend Bag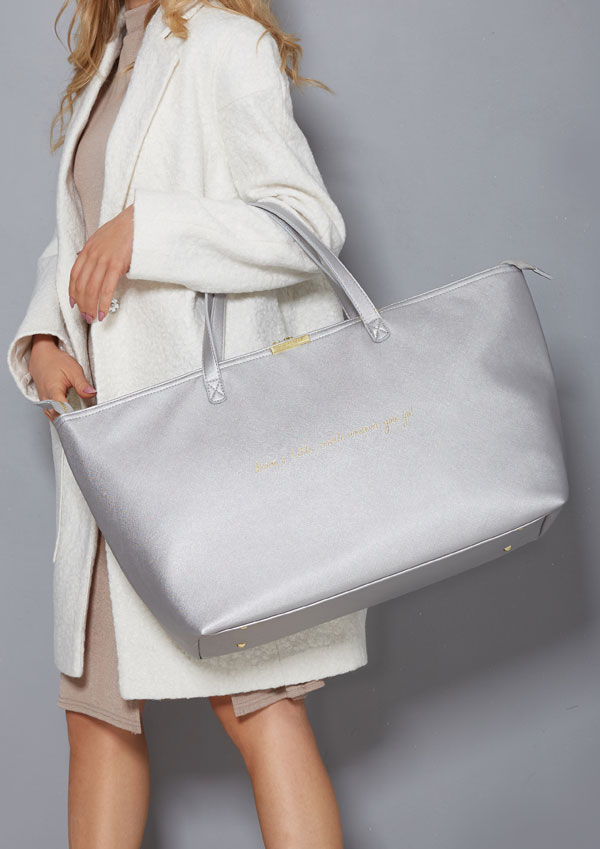 Leave a little sparkle wherever you go with the brand new addition to the best-selling Katie Loxton weekend bag collection, this time back in a shimmery metallic silver and complete with two shorter handles as well as a long over the shoulder adjustable strap, this bag is the ultimate accessory for your winter weekends away! 
Katie Loxton Leave A Little Sparkle Weekend Bag in Metallic Silver
Katie Loxton Accessories
Jewellery Rolls
The brand new collection of Katie Loxton Jewellery Rolls makes a welcome addition to their gorgeous jewellery boxes collection.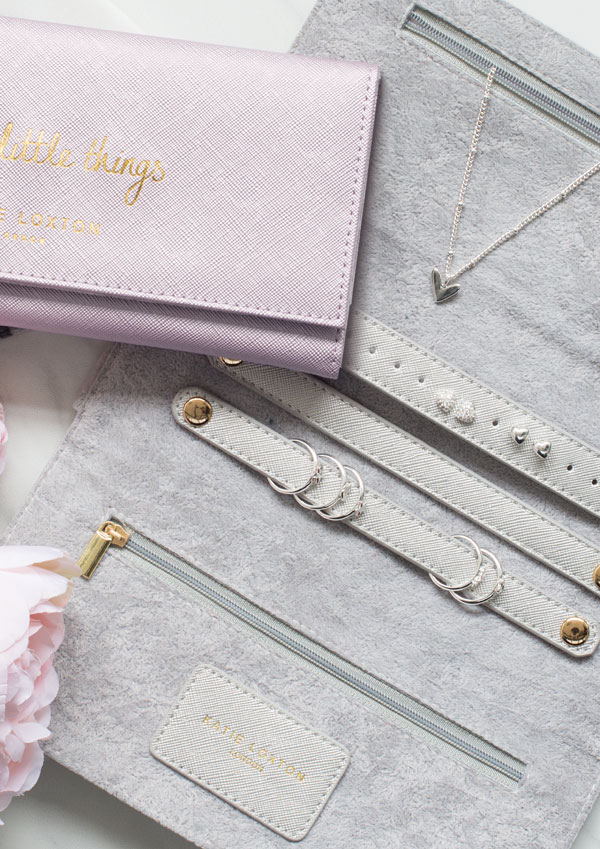 Perfect for storing your treasures on-the-go, you can choose from this season's must-have colours metallic pink, silver or gold.
Sentiment Scarves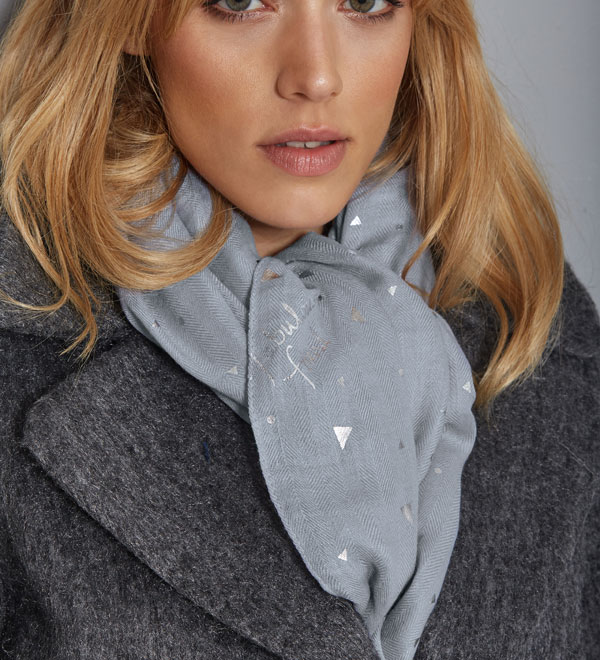 We love the new Katie Loxton sentiment scarves. Bring some warmth into your winter wardrobe with the herringbone weave scarf, finished with sweet sentiments.
Blanket Scarves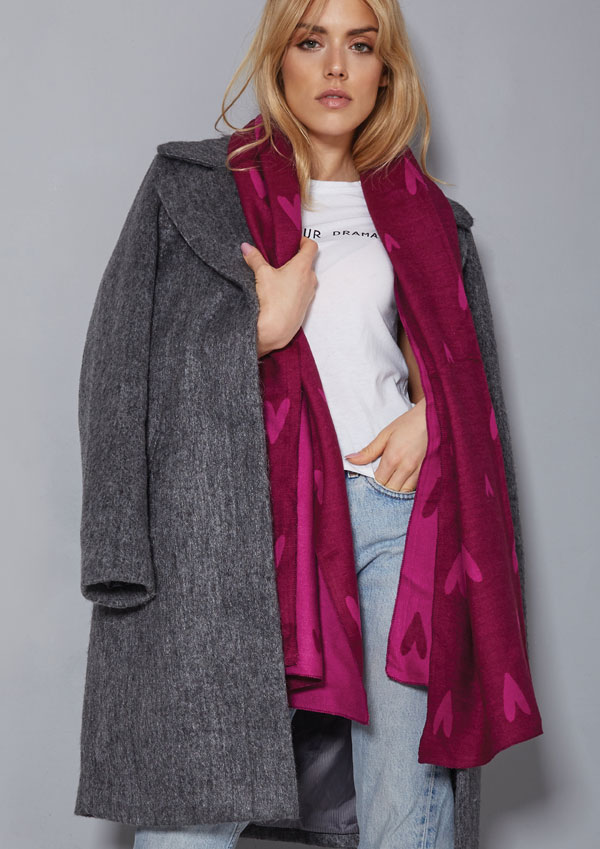 For the ultimate winter style there is nothing better than the beautiful Katie Loxton blanket scarfs. Now finished with a stunning jacquard weave pattern they are must-have for cosy every day chic! 
There are a lot of exciting, beautiful new pieces in the Autumn Winter 2018 Collections from Katie Loxton, from gorgeous new Perfect Pouches to accessories and bags all wrapped in gorgeous, official packaging with Free UK delivery we know the best Christmas's this year will be a Katie Loxton Christmas…
Shop Katie Loxton
---
Read More About Katie Loxton Gifts…
Sparkle and Shine with Katie Loxton Autumn Winter 2017 Collection
Shop the New Arrivals from Katie Loxton
Shop for Personalised Gifts
Shop Personalised Bridesmaid Bags
Shop or Personalised Teacher Thank You Gifts